Sailing Qualifications
At Great Escape, you can gain Yachting New Zealand (YNZ) and International Yacht Training (IYT)  qualifications.  Our operational area is the beautiful Bay of Islands, we teach sailing by going sailing.  Tailored instruction from passionate, experienced sailors.   Contact us to discuss qualification desired and preferred start date  Click for the quick contact form.
Beginner
Intermediate
Advanced
The sailing theory is integrated with practical application so you learn through doing.   Relevant eLearning courses are provided so you can learn the lingo and get to grips with some of the theory before your course.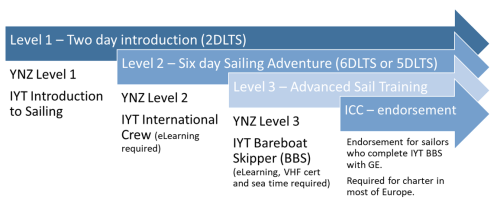 Private lessons or small groups – maximum 1:4 student to instructor ratio
You and your sailing partner or crew may have different experience and ability, but with a boat an instructor to yourselves our instructors will tailor the content and assess for certification appropriately.  You get plenty of sailing time.
IYT International network of schools
Start or complete your IYT sail training with us and start and complete certification courses at any one of IYTs 250 partner schools around the world. Click to find an IYT school
Sailing Theory
As Great Escape is an IYT Accredited Partner school you are welcome to register as an IYT student and take any of their free eLearning courses.
If you want to get a great textbook for your sailing course we recommend "Safety in Small Craft" by Mike Scalan – purchase from good chandleries and boating book shops such as Boat Books.
Details on the qualifications we offer are below;