Bareboat Charter
Great Escape yachts are perfect for exploring the compact, sheltered cruising in the Bay of Islands.  The yachts are easy to manage short-handed and fun to sail.  The lifting keels on some of the boats allow you to sneak into private bays and take the best spot right off the beach!
Well-maintained Kiwi-designed and built yachts from $180 – $470 per day (plus fuel and optional insurance).
Eleven yachts from 20′ to 31′, suitable for two to six people.  If you have a big group take a couple of boats for even more fun.
Great Escape fleet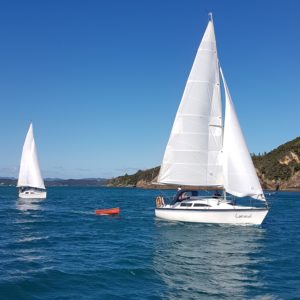 "We took a Noelex 30 out for four days with our two sons, 15 & 12 years old, and it was just awesome. Nicely kitted out yacht that was easy to manage and good to sail. There's nothing nicer than waking up in a beautiful bay after a night on the water, and the friendly and helpful owners of Great Escape made everything 'easy as' – we'll be back!"  TripAdvisor Reviewed by Faaaarrrrrkkk, 23 May 2019
Get in touch if you have any questions Click for quick enquiry form
Check availability and make a reservation  Click for our charter request form