Bareboat Charter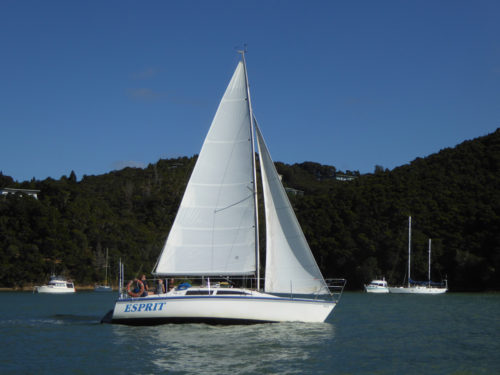 You're the skipper.  Escape reality, live out a dream, do exactly what you want, it's your boat.  With no one to tell you what to do, where to go or when to get there, a bareboat charter sailing holiday is your chance to explore the beautiful Bay of Islands at your own pace. It doesn't get any better than a bareboat charter sailing holiday.
Make the most of the teal and turquoise waters, the caramel beaches and the 144 emerald green islands which comprise the marine playground of the Bay of Islands. Choose a quiet cove for lunch, enjoy a leisurely sail to a sheltered overnight anchorage,explore the historic towns, meander through as many secluded bays and daytime anchorages as you like. On a bareboat charter you have the freedom to discover the reason our Bay of Islands is a world-renown cruising ground on your own terms.
Choose from our fleet of well-maintained New Zealand designed and built yachts.  From the budget Davidson 20s suitable for two overnight or four for a day sail, to the spacious Raven 31s suitable for up to six people for extended cruising in the Bay of Islands.  The Noelex 25soffer compact cruising and our Noelex 30s deliver performance fun.  Whatever your sailing aspiration and crew, we have a boat for you.  If you want to holiday with a few friends, take a couple of boats and enjoy your own informal fun flotilla.
Great Escape boats are all fully compliant with Maritime New Zealand regulations andhave all the safety equipment and cruising gear you'll need.  All you need to bring are provisions and personal gear.
Select your yacht: