Bareboat Charter
Select your boat from our fleet of well-maintained Kiwi designed and built yachts.
Affordable charter yachts from 20′ to 31′, suitable for two to six people and if you have a bigger group take a couple of boats for even more fun.
We operate all year round.  Check dates and availability at any time Click for quick enquiry form
Great Escape fleet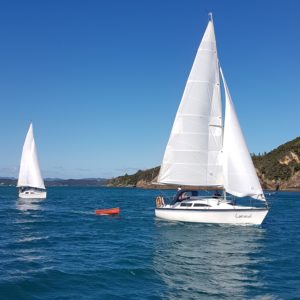 We have a fleet of eleven yachts and two powerboats.  Our boats are all fully compliant with Maritime New Zealand regulations and have all the safety equipment and cruising gear you'll need.  We invest heavily in maintenance so you can enjoy safe hassle-free sailing, all you need to bring are your provisions and personal gear.
"We took a Noelex 30 out for four days with our two sons, 15 & 12 years old, and it was just awesome. Nicely kitted out yacht that was easy to manage and good to sail. There's nothing nicer than waking up in a beautiful bay after a night on the water, and the friendly and helpful owners of Great Escape made everything 'easy as' – we'll be back!"  TripAdvisor Reviewed by Faaaarrrrrkkk, 23 May 2019
Click on each type of yacht for more details.
Complete the no-obligation Request a Charter form  to check yacht availability and costs.
Bay of Islands
Great Escape yachts are perfect for exploring the compact, sheltered cruising in the Bay of Islands.  The yachts are easy to manage short-handed and fun to sail.  The lifting keels on some of the boats allow you to sneak into private bays and take the best spot right off the beach!
Discover the reason our Bay of Islands is a world-renown cruising ground.
Select your yacht: