Cruising Ground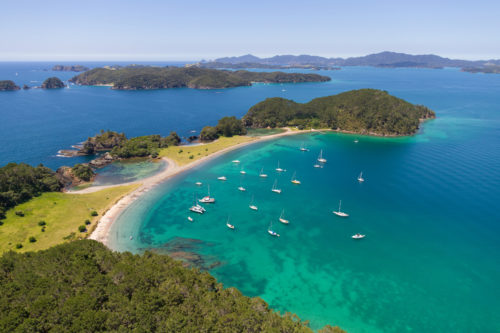 The Bay of Islands with its sheltered waters, temperate climate, historic towns, sleepy bays, protected inlets, sweeping stretches of golden sandy beaches, and clear waters is a world-renowned cruising destination.
It is a year-round maritime playground that locals cherish, and visitors return to again and again. With the numerous Islands and inlets, there is plenty to explore and enjoy.
Before you cast off we'll give you an updated weather forecast and recommend an itinerary for your sailing holiday.  We also provide paper charts and a local cruising guide.  Use our interactive map to explore some of the highlights you won't want to miss.
Here are some useful links and references to help ensure you have a safe and fun sailing holiday
Apps
We will give you a thorough briefing and a local cruising guide with paper charts, if you are bringing a smart device along you may like to download your own GPS/Chartplotter app such as Navionics.
Weather
At the core of all we do as sailors is one thing – the weather. It's is our engine, our bliss or our most frightening adversary. The subject of weather is vast and can be complicated, but let's start with the basic ideas surrounding weather.
The VHF has a dedicated channel, channel 19 in the Bay of Islands continually plays the latest Met service weather forecast.
Also, check out these key weather forecasting sites
NRC Regulations and Safe Boating
Ensure you are familiar with the maritime regulations as they apply in Northland.
Where to stay before and after your sailing holiday: Visit BOI – Accommodation
What else to do besides sailing in the Bay of Islands.