NOELEX 30: Enjoyable sailing, Fun afloat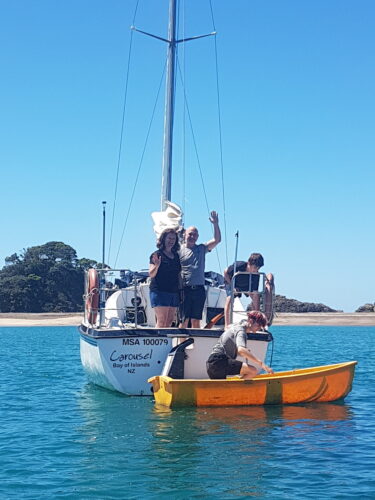 Designed by Bruce Farr and built in New Zealand, our Noelex 30s, Esprit and Carousel, are fun cruising boats. With self-tacking, roller furl headsails they are easy to sail shorthanded. These boats also have hydraulic lifting keels which enable you to get close to the beach. Well set-up with plenty of room down below, they are an excellent boat for a small family or group of friends to explore the Bay of Islands.
The maximum number of sailors is five, ideal for three friends and recommended no more than four for overnight.
Specifications
LOA: 9.41m Beam: 2.86m
Draft: 0.52m Keel up 1.92m Keel down
Sail area: 38.08m2
Bed layout: Double forward cabin, double midships, large quarter berth
Engine: 20 HP diesel Volvo
Water: 180 litres
Accommodation
The Noelex 30 has a generous double bunk in the forward cabin. Separate head on the port side forward of the main cabin. In the main cabin, the table drops down to make another double berth. Generous quarter berth aft.
Cookware and tableware for five. Galley with refrigerator and cooker, two-burner elements. Linen provided on request.
All Great Escape boats are fully equipped to Maritime New Zealand safety standards and well maintained to ensure a hassle-free sailing holiday.
An awesome four days! We took a Noelex 30 out for four days with our two sons, 15 & 12 years old, and it was just awesome. Nicely kitted out yacht that was easy to manage and good to sail. There's nothing nicer than waking up in a beautiful bay after a night on the water, and the friendly and helpful owners of Great Escape made everything 'easy as' – we'll be back! TripAdvisor Review
Esprit cruising along in the beautiful Bay of Islands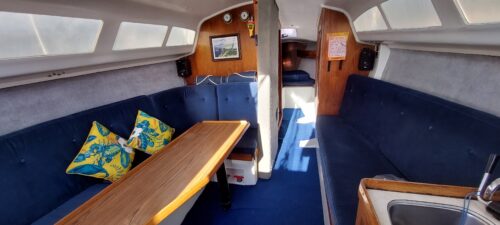 Interior showing galley to starboard, head and double bunk forward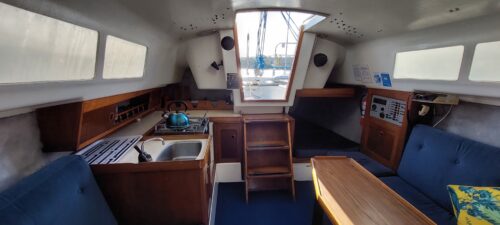 Interior looking aft, quarterberth on port side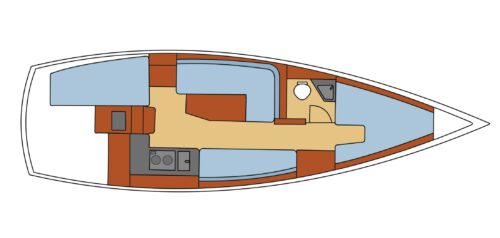 Layout in day configuration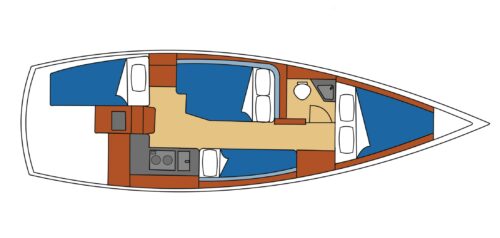 Layout in night configuration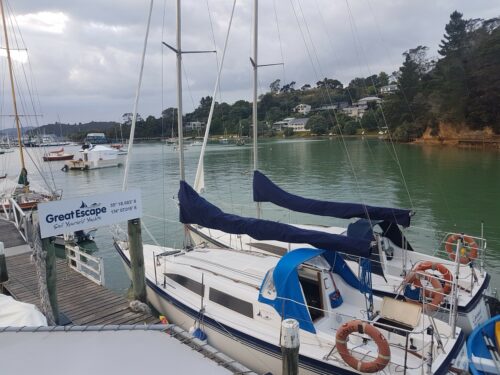 Esprit and Carousel on our dock in Opua
Details for your charter
Your charter commences 9.30am on day one and concludes at 4.00pm on the last day
Minimum hire – early season 2 days, peak 4 days, summer 3 days, late season 2 days.
10% discount on daily hire rate for charters of 7 days or more.
For bareboat charter, the skipper must have a sound knowledge of sailing and boat handling. Ideally a recreational sailing qualification and/or significant experience in a similar vessel. We provide a comprehensive vessel safety briefing and an overview of navigation in the Bay of Islands, with suggested highlights before you cast off.
If it has been a while since you last sailed, if you haven't sailed a similar boat, or your crew has limited experience we recommend an instructor for the first day.  Your instructor will join you at the dock on the morning of departure, they can recap sailing skills, boat handling, anchoring, navigation and weather interpretation in the Bay of Islands and will share with you some of their favourite spots to anchor.  Your instructor will also cover VHF use and retrieval of a person overboard.  The instructor departs around 3.00pm, plenty of time for you to get to a lovely anchorage for your first night.
More information