Sail with Friends – Fun Flotillas in the Beautiful Bay of Islands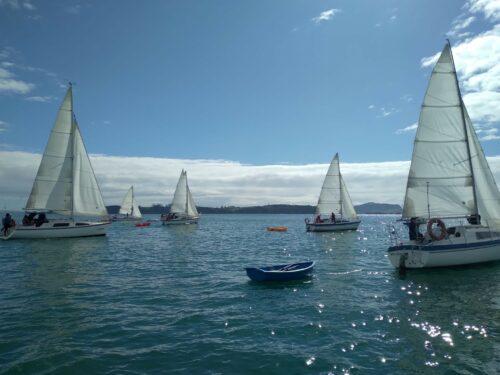 Sailing in company.  Fun Flotillas provide families, couples, and groups of friends, a social sailing holiday in the beautiful Bay of Islands with planned events and activities. A stepping stone to bareboat charter for our learn-to-sail graduates and an easy option for those who want the freedom of a bareboat charter with the security of sailing with a lead boat.
Great Escape Instructor(s) on the lead boat to ensure you have a wonderful sailing holiday in the Bay of Islands.
Download or view BOI Rally Brochure – Sail with friends
Join one of our scheduled flotillas or create your own.  Clubs and groups welcome. Contact us to start planning your event.
Scheduled Fun Flotillas
Kick-off Summer – 7th, 8th and 9th October 2022 (optional extension to the 10th)
Escape Christmas shopping – 9th, 10th & 11th December 2022 (optional extension to the 12th)
6th Annual Bay of Islands WOW (Women on Water) Fun Flotilla commences Friday 28th April 2023
Additional All-Comers and Family Fun Flotillas summer dates to be confirmed (great for families, Contact us for details)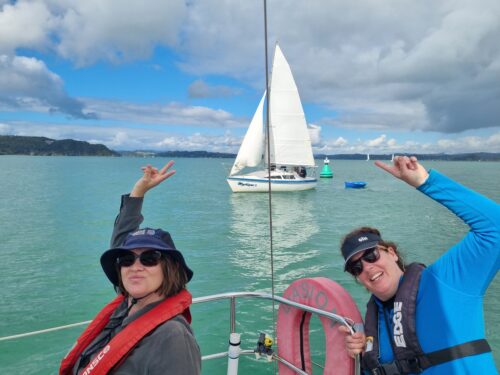 Loose outline of activities
FRIDAY: Participants arrive from 3.00pm
Welcomed to Great Escape Base. Complete paperwork and obtain Flotilla Pack;
• BOI Chart, Great Escape Caps, Great Escape Flag, Participant list.
Familiarisation and safety briefing for your yacht, load provisions.
From 5.30pm Meet and greet at Yacht Club (Opua Cruising Club). Weather forecast update, final passage plan and en route challenges circulated. Dinner at OCC (own cost) or cook aboard your boat. Sleep aboard, either tied to the dock or out on a mooring.
SATURDAY: Breakfast aboard, any further provisions loaded, weather update.
Approx. 10.00am start sail to destination. (Rally, not a race, complete en route challenge)
Arrive at destination, drop anchor, informal interactions. Swimming, explore ashore.
Saturday afternoon/evening, fun prizegiving, games, shared meal ashore (Great Escape to provide BBQ and salads – participants bring their own meat).  Sleep aboard your yacht at anchor.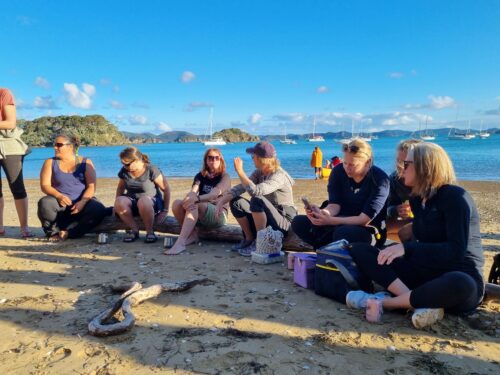 SUNDAY: or MONDAY
With the four day flotillas Sunday may be a lay day.
  
Breakfast on individual yachts, weather update and passage briefing ashore. Sail to lunch destination then back to base, unload gear, depart vessels.
Optional debrief at Yacht Club Sunday evening.
Book Now reference Fun Flotilla in the comments or contact us to register interest Click for contact form