NOELEX 25: Elegant, compact, comfort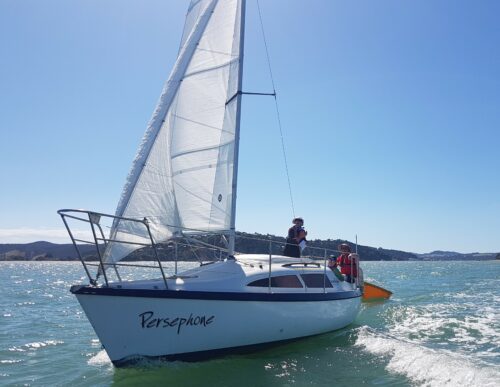 The Noelex 25 is simple and responsive to sail, one of the most successful yachts of its size in Australasia, well-equipt and very spacious. We have five of these boats in our fleet they are a perfect boat for a couple or small family to explore the Bay of Islands.  The lifting ballasted centreboard/keel provides stability under sail but gives you the advantage of anchoring in shallow waters and exploring bays not available to fixed keelboats.
The maximum number of sailors is five, ideal for a couple, three friends or two adults and two children.  These boats are straighforward and simple, down below you have battery internal lights, a chilli bin to keep provisions cool, a gas hob for cooking and a sink with fresh water.  There is also a marine toilet with holding tank.  There are no charging facilities for devices aboard.  Think camping afloat.
Specifications
LOA: 7.7m Beam: 2.5m
Draft: 0.3m Keel up,  1.4m Keel down
Sail area: 21.37m2
Bed layout: Double forward cabin, tight double midships, large quarter berth
Engine: 8hp 4stroke outboard
Water: 40 litres
Accommodation
Settees port and starboard.  Galley with two-burner midships.  Table clips into centreboard case for dining and food prep.  Food storage, including built-in chili bin under cockpit.  One saloon settee back squab forms a generous double bunk in the forward cabin, the second drops into place for double berth midships.  Long single on starboard side.  Head on port side forward of the main cabin, locker door closes for privacy.  Cookware and tableware for five.  Linen provided on request.
All Great Escape boats are fully equipped to Maritime New Zealand safety standards and well maintained to ensure a hassle-free sailing holiday.
Incredible weekend getaway.  "We had an absolutely amazing weekend away thanks to Julie and Bill. We took out the Noelex 25 and she was lovely – plenty of room inside, sailed really well and was easy to manage with two people. Julie and Bill gave us a good run down of instructions and advice on where to go, we stayed at Moturua Island overnight then visted Urupukapuka and did some of the walks around the islands which are beautiful. We had stunning weather and even did some dolphin spotting. Highly recommend and we will certainly be back!"  TripAdvisor Review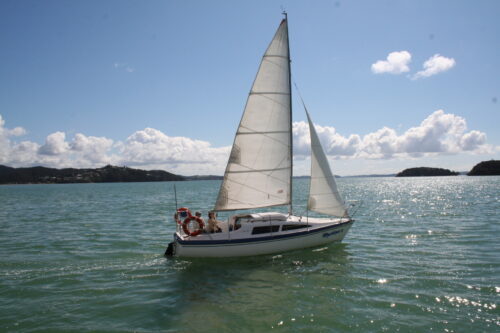 Mystique cruising along in the beautiful Bay of Islands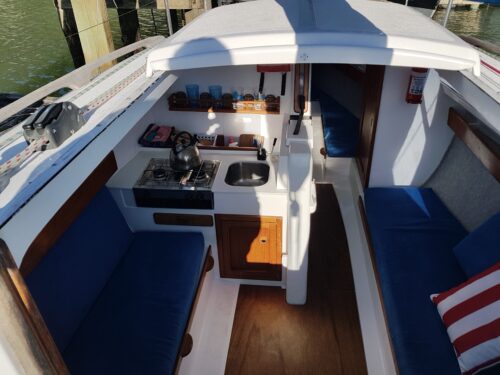 Interior looking down from cockpit, showing galley to port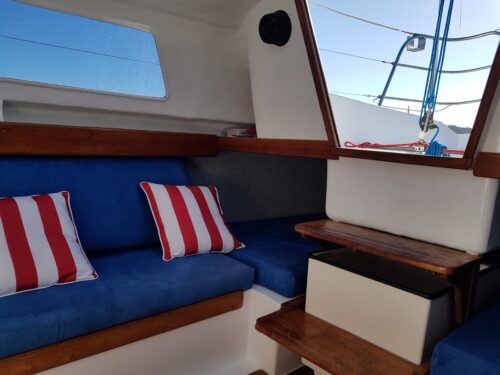 Interior looking aft, quarterberth on starboard side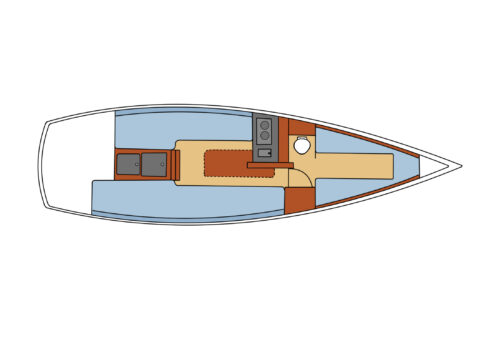 Layout in day configuration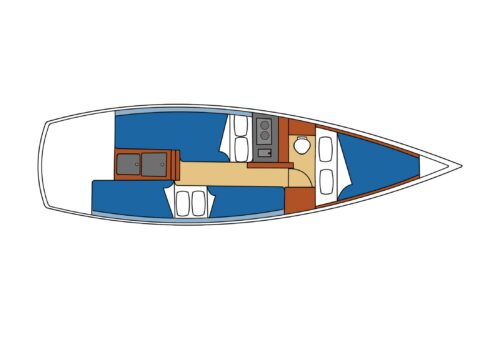 Layout in night configuration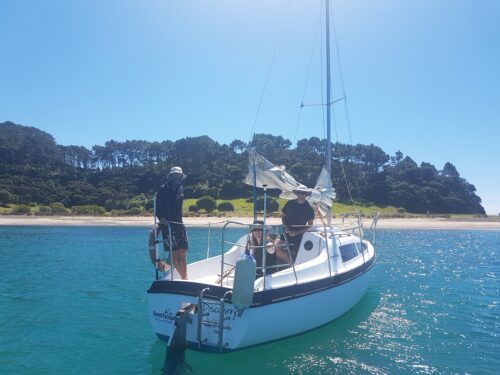 Discovery at anchor in Army Bay
Details for your charter
Your charter commences 9.30am on day one and concludes at 4.00pm on the last day
You are provided with a dinghy and oars for your tender
For bareboat charter, the skipper must have a sound knowledge of sailing and boat handling. Ideally a recreational sailing qualification and/or significant experience in a similar vessel. We provide a comprehensive vessel safety briefing and an overview of navigation in the Bay of Islands, with suggested highlights before you cast off.
If it has been a while since you last sailed, if you haven't sailed a similar boat, or your crew has limited experience we recommend an instructor for the first day.  Your instructor will join you at the dock on the morning of departure, they can recap sailing skills, boat handling, anchoring, navigation and weather interpretation in the Bay of Islands and will share with you some of their favourite spots to anchor.  Your instructor will also cover VHF use and retrieval of a person overboard.  The instructor departs around 3.00pm, plenty of time for you to get to a lovely anchorage for your first night.
More information