Davidson 20: Budget Price, Maximum Fun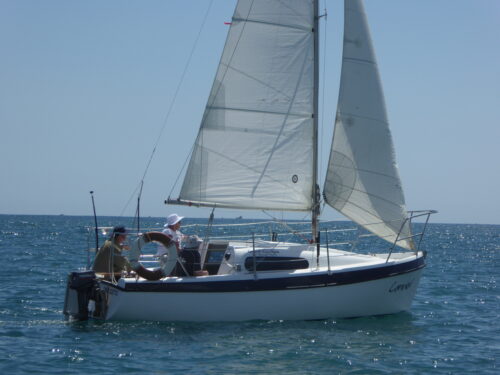 The Davidson 20 is a big-volume small boat that has been providing affordable, memorable, sailing holidays in the Bay of Islands for many sailors over many years.  Perfect for the compact, sheltered waters of the bay, they are fun and responsive to sail, with a generous cockpit and sitting headroom down below. Whilst they have been well used, they are well-loved and these boats have undergone significant ongoing refurbishment to ensure you have an enjoyable, hassle-free holiday afloat.
Being small has its benefits, you can get right up to the beach. The lifting keel gives you plenty of cruising options, the straightforward, balanced rig make it easy to sail.
Very comfortable with four aboard for day sailing.  Ideal for two people for longer stays.  No electricity aboard.  Think camping afloat!
Specifications
LOA: 6.09 m Beam: 2.4m
Draft: 0.3m Keel up,  1.79m Keel down
Sail area: 20 m2
Engine: 8hp 2stroke outboard
Water: 40 litres
Accommodation
Down below there is good sitting headroom with a fixed table, galley, separate head, and generous berths. All the cruising gear and safety equipment you need for a great sailing holiday are aboard.  The table midships drops down to create a double berth or there are two generous single quarterberths.  Up forward there is a head with a curtain for privacy and sail stowage.  Cookware and tableware for four.  Chili-bin is provided to keep provisions cool.  There is no charging aboard.  Linen provided on request.
All Great Escape boats are fully equipped to Maritime New Zealand safety standards and well maintained to ensure a hassle-free sailing holiday.
Having yachts of fun …"We celebrated our 40th wedding anniversary by learning to sail a boat a bit bigger than we are used to. We have done most of our sailing in a Sunburst and then a 420 so the main challenge for us was mastering navigation, anchoring and the outboard motor. The wee Davidson 20 was perfect for the 2 of us. It is like camping but more comfortable and you don't have to erect the tent! Julie is very efficient with regards to preparation, paperwork and safety and we felt secure and well supported at all times. ….The Bay of Islands is a beautiful piece of water and being here during Covid restrictions meant the number of boats on the water is much reduced – great for us novices. We loved every minute of it – saw a penguin, stingray, dolphins, gannets (their dive-bombing is amazing) a fish frenzy and hundreds of shags roosting in the trees. A real highlight was when we walked the 300m through a shady kanuka forest to a bird hide on Urupukapuka Island, and watched the beautiful kakariki (red-crowned parakeet) being chased by the bossy tuis.…. We intend to return."  TripAdvisor Review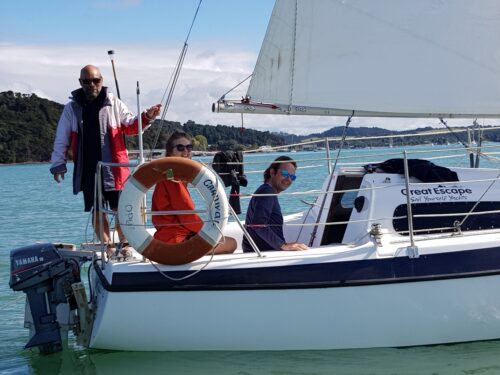 Heading out with an instructor in the beautiful Bay of Islands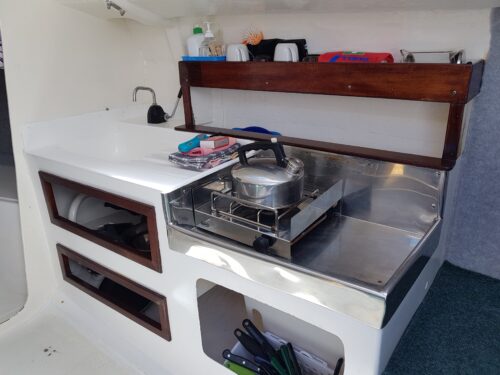 Functional Galley on starboard side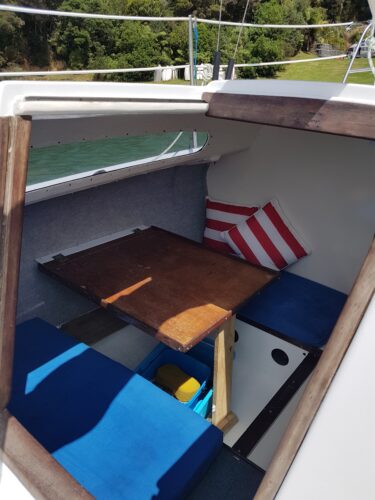 Interior port side from cockpit showing drop down table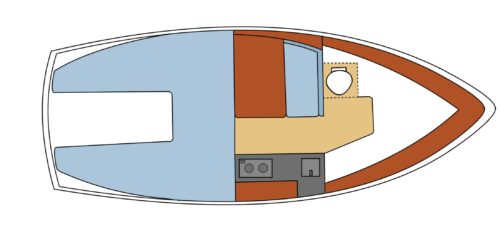 Layout in day configuration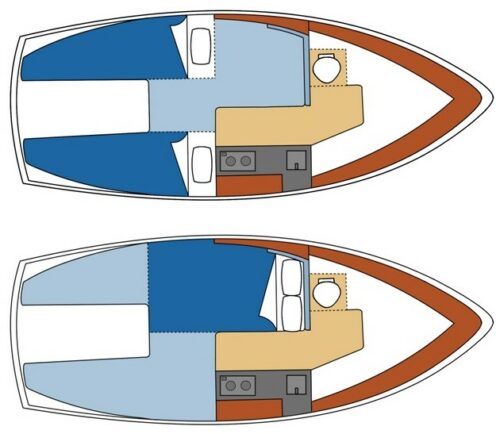 Layout in night configuration, two quarterberths or double midships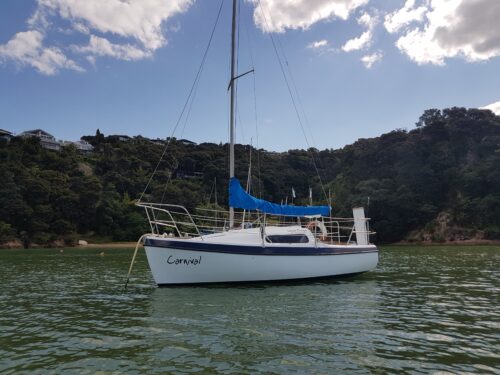 Carnival on her mooring in Opua
Details for your charter
Your charter commences 9.30am on day one and concludes at 4.00pm on the last day
You are provided with a dinghy and oars for your tender
For bareboat charter, the skipper must have a sound knowledge of sailing and boat handling. Ideally a recreational sailing qualification and/or significant experience in a similar vessel. We provide a comprehensive vessel safety briefing and an overview of navigation in the Bay of Islands, with suggested highlights before you cast off.
If it has been a while since you last sailed, if you haven't sailed a similar boat, or your crew has limited experience we recommend an instructor for the first day.  Your instructor will join you at the dock on the morning of departure, they can recap sailing skills, boat handling, anchoring, navigation and weather interpretation in the Bay of Islands and will share with you some of their favourite spots to anchor.  Your instructor will also cover VHF use and retrieval of a person overboard.  The instructor departs around 3.00pm, plenty of time for you to get to a lovely anchorage for your first night.
More information