Adventure sailing holidays
Learn to sail, then sail yourself.  Our instructors teach you to sail, to handle your boat under sail or power,  to safely anchor, show you how to interpret weather forecasts, handle minor emergencies and ensure you know the basic maritime rules and can navigate safely from A to B.  Everything you need to safely skipper one of our yachts for your own adventure sailing holiday in our beautiful Bay of Islands.
Recommended Courses
Beginners: Two-day introduction or Six-day learn-to-sail then sail-yourself holiday
Intermediate: Five-day sailing adventure holiday
Experienced: Five-day Bareboat Skipper course or one-day instructor refresh to start your bareboat holiday
Come sail with us
Sailing in the fantastic sheltered world-renowned Bay of Islands cruising grounds
Skippering your own easily managed, well behaved NZ designed and built yacht
Individualised instruction to build your sailing and boat handling expertise
Gain internationally recognised qualifications
6-day sailing holiday:  Learn to sail then sail yourself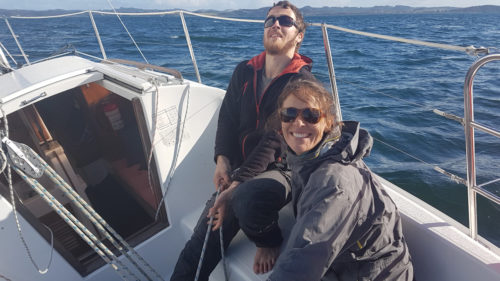 Ideal for those with a dream of sailing themselves in the beautiful Bay of Islands, even if you have never sailed before. Three days with an instructor and three days cruising and exploring the Bay of Islands by yourselves.
A useful sailing holiday for two people with different levels of sailing expertise and for those that wish to obtain the Yachting NZ Level two qualifications.  For beginners, the three days instruction ensures plenty of time to cover the key skills and knowledge to safely sail in the Bay.  For those with some experience the three days under instruction, combined with the three days self-sail should enable them to obtain YNZ Level Two certification and the IYT (International Yacht Training) International Crew.  Click for IYT International Crew Course Info
$890 per sailor
No prior experience required
Davidson 20 standard yacht (two people)
Noelex 25 optional upgrade for two (standard boat for three people)
"Wow, what can I say. I can't recommend this trip enough. … taught us everything we needed to know to feel confident when left to our own devices to explore the Bay of Islands for the following 3 days. We had perfect weather, saw dolphins on two of the days and had a generally fantastic experience learning to sail." – Samantha R Trip Advisor
2-day introduction to sailing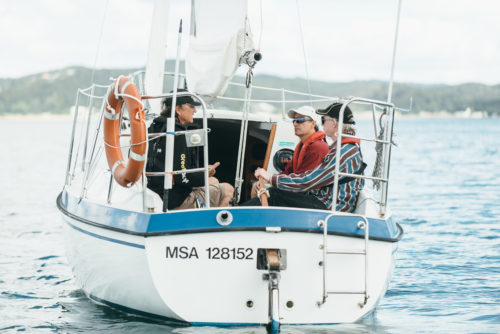 This two-day course gives you an excellent introduction to the sport of sailing.  Safe and enjoyable you'll be with your instructor during the day and tied up to our dock for your night aboard.  It includes all the essential safety skills necessary for you to participate in sailing in the most enjoyable way under instruction for the duration of your sailing holiday
Day one – Your sailing holiday commences at 9.30am with a dock briefing then you cast off for a day's sailing in the bay with your instructor.
Overnight – Sleep aboard tied to the Great Escape dock
Day two – Another day out sailing with your instructor, your sailing holiday concludes at 5 pm.
This course is an introduction to Keelboat Sailing.  No prior experience is assumed or required.  Suitable for all ages.   Depending on competency, by the end of the course, you should have obtained your Level One YNZ Keelboat Certification (Introduction to Keelboat Sailing).
Beginner sailing courses are conducted aboard our Davidson 20 yachts (max two sailors)
Sailors may choose to upgrade to the Noelex 25 (max three sailors or two adults and two children – under 14)
5-day sailing adventure holiday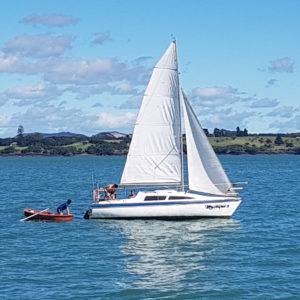 Perfect for those with some boating experience ready to step up to skippering their own boat. two days with an instructor and three days cruising and exploring the Bay of Islands by yourselves.
Day one – Dock briefing then cast off for a day's sailing in the bay.
First overnight – Sleep aboard tied to the Great Escape dock.
Day two – Another day out sailing with your instructor.
Second overnight– Sleep aboard tied to the Great Escape dock.
Days three to five – It's time to set sail by yourself, explore the wonderful Bay of Islands and practice your new sailing skills. Before you cast off we discuss your passage planning, review navigation in the Bay of Islands, give you updated weather forecast information and guide you on suitable anchorages and points of interest for the following days.
Some previous experience required e.g. Keelboat racing as crew, skipper of powerboat, extensive dinghy sailing.
$720 per sailor
1-day skipper skills refresh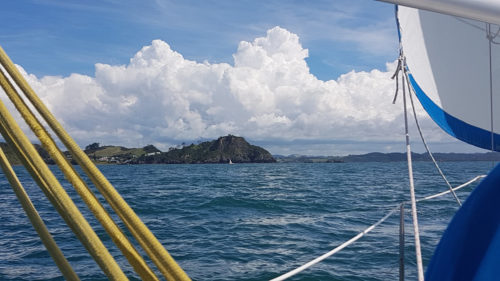 Take an instructor on the first day of your bareboat or flotilla holiday. Refresh your keelboat sailing skills, understand the systems and controls on your yacht and gain valuable insights into navigation in the Bay of Islands.
Previous sailing experience required.
$300 per day, additional to your bareboat hire costs
5-day advanced – Bareboat Skipper Certification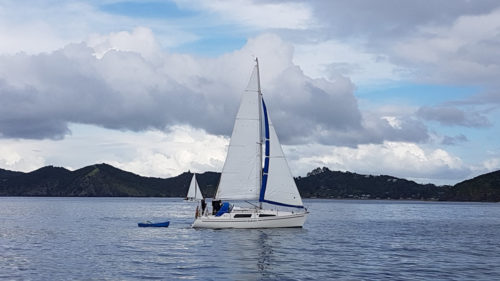 An intensive live-aboard designed to extend your expertise for further sailing adventures. Perfect foundation course for those intending to purchase their own yacht and set-sail for extended voyages or those wanting to charter internationally.
Previous sailing experience required, this is not a beginner course.  The recommended entry-level requirements are a VHF maritime radio operators certificate, and to have logged over 200 nautical miles and 10 days at sea before advancing to this level. The recommended minimum age to obtain this certification is 18.  If you are unsure about your experience contact us.
Cost $1,490 per sailor Includes course materials and eLearning theory
To see course content Click for IYT International Bareboat Skipper (Note those who achieve the International Bareboat Skipper qualification can sit an additional theory exam to obtain the "International Certificate of Competency" (ICC), required for charter by many international charter operators.
BOOK NOW  Our sailing courses start on demand with a minimum of two sailors.  We can cater for solo sailors on request.  We operate all year round in the Winterless North.