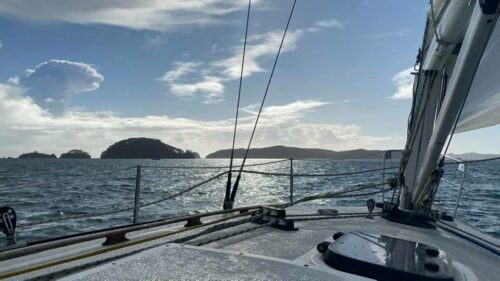 We're introducing a new Six-day sailing adventure exploring Northland's coastal cruising grounds for intermediate to advanced sailors.
Experience the joy of cruising in New Zealand's most spectacular cruising grounds, whilst gaining skills, knowledge, experience, and recreational sailing qualifications. Learn from a yachting guru who has over 375,000 ocean miles under her belt, including a race circumnavigation, several Sydney-Hobert races, and seven Cape Horn roundings.
Operational Area
The operational area for this adventure is from Whangaroa in the North to Whangaumu in the South, including the islands in the Bay of Islands and the Cavalli Islands. Each voyage will be different and you will be guided in your voyage planning by your instructor and weather conditions.
Instructor
A rigger and sailmaker by trade, Amanda has been sailing her whole life. She was the kiwi rigger aboard Maiden for the Whitbread Round the World race and for over twenty years prior to joining Great Escape Sailing was developing and delivering off-shore sail-training expeditions from Antarctic to the Arctic. She has also authored two books, "Marine Diesel Engine Essentials" and "The Essential Galley Companion".
Tailored instruction
This course has a maximum instructor-to-student ratio of 1:3, enabling instruction tailored to each participant. Ideal for a couple with different levels of experience. You may book a berth or boat.
Is it for me?
The Coastal Voyage is ideal for graduates of the Great Escape six-day learn-to-sail sail-yourself Inshore Adventure who have had a bit of experience and are looking for the next challenge. It is also ideal for individuals, couples, or friends who have introductory sailing qualifications and/or extensive experience as co-skipper or crew. It is not for beginners.
When is it?
We'll be finalising the content and schedule this month.  We expect to run the pilot course in November and then have it available in December, February, March, April, and May.  If you'd like more information or are keen to help us out with the pilot get in touch.  Click for Contact Form