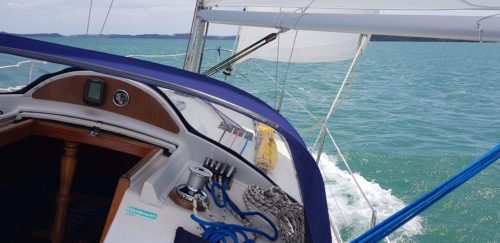 Great Escape advanced sail training course includes the International Bareboat Skipper IYT (International Yacht Training)  and Yachting New Zealand Level 3 Keelboat syllabus. Successful candidates can obtain both a local and international recreational qualification from the one course.
Training is aboard one of our Raven 31s (Click for boat details)
This is an extremely practical, hands-on sail training course. With a maximum 1:3 instructor:student ratio.  Designed to enable you to competently skipper a yacht for extended coastal cruising. You will get plenty of practice and training on essential competencies including manoeuvring a boat under sail and power, passage preparation, safety underway, docking, navigation and adherence to regulatory requirements.
Participant requirements
This course is not for beginners and the recommended entry-level requirements are a VHF maritime radio operators' certificate, and to have logged over 200 nautical miles and 10 days at sea before advancing to this level. The recommended minimum age is 18. Candidates who do not have 200 nautical miles may take this course and gain miles required to obtain certification during the course. We can also help you obtain your VHF license.  If you are uncertain as to your suitability for the course, please talk to Great Escape to discuss your sailing background.
Schedule and costs
The course runs on-demand with a minimum of two people, there are also public courses scheduled where the instructor: student ratio is 1:3. Cost for either option is $1.490 per person.  
Next public start dates are Friday 6th November 2020 or Friday 26th March. 
On-demand coursed usually start Wednesdays, other days by request
Click here to register for your public or on-demand advanced sail training.
International Certificate of Competency
Those who have obtained the IYT International Bareboat Skipper qualification can sit an additional theory exam and practical assessment to obtain the "International Certificate of Competency" (ICC), provided the candidate meets the requirements as laid down by the United Nations Economic Commission for Europe (Resolution 40).