Out on the water conditions can change quickly, be prepared.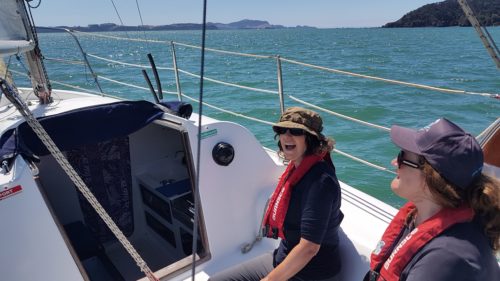 Wear comfortable clothing you can move in
Bring layers for warmth and dry clothing to change into in case you get wet
On warm days wear light breathing clothing – a collared shirt and long sleeves for sun protection
Bring wet weather gear – a waterproof jacket and separate bib-style trousers with braces is ideal
Use sunscreen even on cloudy days
Wear a hat – A sun hat to shield your eyes and keep sun off your head or a warm hat for cool days to minimise heat loss through your head
Bring sunglasses with good UV, ideally polarised with a cord or bungee to keep them from falling overboard
Wear non-skid, non-marking shoes, bare feet are ok, but you are likely to stub your toe on something!
You might also like sailing gloves, good for protecting hands and improving grip.
Pack all your gear in a soft duffle bag
A life jacket (PDF) is essential equipment – Great Escape will provide this if you don't have one.
It is smart to wear your PFD at all time on the water. Be sure your PDF is in good condition and fits properly so won't ride up when in the water.