Make sure someone on shore knows your plans.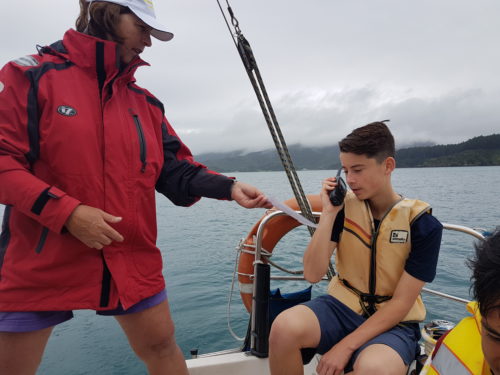 When you are heading out for a sail tell a friend or family member and use your VHF radio to file a trip report (TR) with local maritime radio or your local Coastguard.
Great Escape sailors are required to file a trip report with Russell Radio (VHF Channel 63) when they depart and close off their trip report at the end of the day when they are safely anchored or have returned to the Great Escape Base.
Detail where you're going, how many people are on board and when you expect to return.
A trip report (TR) is recorded and used for search and rescue purposes if you're reported overdue.
Don't forget to cancel your trip report when you return safely. Be aware that a search will NOT automatically be made if you fail to cancel your trip report – you'll still need to send a signal if you're in distress.
NB:  Use VHF Channel 16 for all distress calls
Format for Great Escape trip report
Turn on your VHF, select channel 63.  Listen for any communication in progress, after a period of silence call Russell Radio;

"Russell Radio, Russell Radio, Russell Radio this is yacht <NAME x 3>".

Pause, wait for Russell Radio to acknowledge your call, they will likely say something like, "Go ahead <NAME>". You now begin your trip report;
Russell Radio will acknowledge your transmission, they may ask for clarification or get you to repeat information.
Conclude your transmission with a short message;

g. "Thank you Russell Radio <YACHT> clear."
To close off a trip report
Turn on your VHF, select channel 63. Listen for any communication in progress, after a period of silence call Russell Radio;

"Russell Radio, Russell Radio, Russell Radio this is yacht <NAME x 3>.
"Arrived at ………………………………………………………………………………………….
"With ……………………………….POB"

Pause, wait for Russell Radio to acknowledge your call, they may ask for clarification or get you to repeat information.
Conclude your transmission with a short message;

e.g. "Thank you Russell Radio <YACHT> clear."
[1] Estimated time of arrival
[2] Persons On Board