WOW – What a fantastic weekend we had.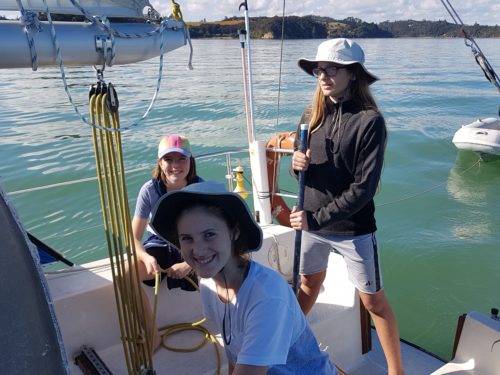 Our second annual Bay of Islands WOW (Women on Water) weekend, organised by Great Escape, was an event for women at all levels of sailing competence.  It's a low-key, non-competitive event.  Everyone finds their own challenge and women sailors of all experience levels participate.  For some this was their first-time helming and sleeping aboard, for others the challenge was stepping up to the responsibilities of a bareboat skipper.  From novice to experienced off-shore skippers, there was plenty of sharing, learning and laughter in a safe and supportive environment.
FRIDAY – Explosive
We started WOW with a liferaft explosion and briefing on Friday afternoon.  Everyone got to meet the other sailors, find out which boat they had been allocated and enjoy a social beverage, some stayed for a meal at the Opua Cruising Club.  Four sets of sisters and two mother-daughter combinations joined us this year and participants ranged from 12 years old to mid-sixties.
SATURDAY – Slow Sail
Saturday morning dawned, not a lot of breeze to start with so after loading and final boat briefings we had an easy motor sail to Tapeka Point.  By about midday, the breeze started to pick up and we had a nice gentle on-the wind sail around the back of the islands to Paradise on Urupukapuka Island.  Once everyone was safely anchored and sails stowed we all headed ashore for a shared meal and casual prizegiving.
SUNDAY – Dolphins
The sun was out all weekend, and although its early May just about everyone had at least one swim.  Sunday morning some went exploring the trails ashore, whilst others just enjoyed the time to catch up and enjoy a leisurely coffee.  There was not a lot of wind when we up anchored and headed home so we opted to forgo the lunch stop at Roberton Island,  but we had enough wind for a fun downhill sail back to Opua.  Dolphins joined us briefly at the entrance to Veronica Channel to welcome us home.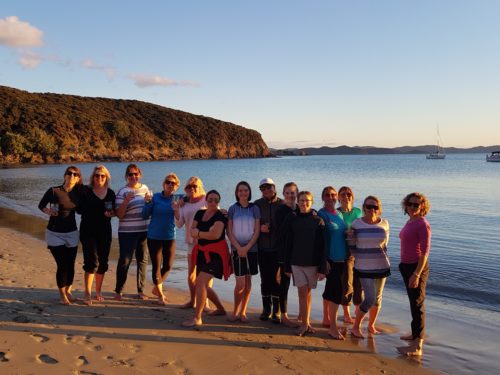 Once again WOW comprised a wonderful group of women, lots of laughs, new experiences and new friends.  There are plenty more photos on our Facebook and Instagram accounts.
The date for the third annual Bay of Islands WOW has already been set; Friday 1st May 2020 – put it in your diary now and plan to join us.