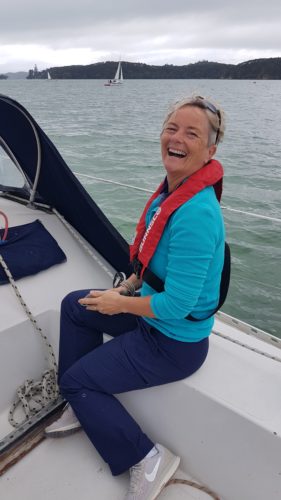 Our fourth annual WOW (Women on Water) weekend is all on track for the end of April.  Interest from women sailors who have joined us in the past is high, but there is still room for a few more.  (Register in the next week or so to secure your berth. Click for WOW registration form)
The philosophy behind this weekend is a safe, fun environment for women to stretch and grow their sailing expertise.  For some, that means stepping up to skippering a boat when they have only ever been the crew.  For others just being on a yacht, contributing to some of the crew work and sleeping aboard is a challenge enough.
What to expect
The format is simple.  Everyone is allocated to a Great Escape yacht as skipper, first mate or crew.  We all meet on Friday evening at the Opua Cruising Club.  Generally, there will be a fun activity so everyone gets a chance to meet, a learning activity to grow skills and we'll also check the weather forecast and plan the weekend.  Saturday morning the final loading of the boats and we cast off.  Aiming for 10 am, but it is generally a bit later!  There will be a few tasks en route, in the past, we have practised person-overboard or completed nautical quizzes.  Once everyone is safely anchored we all meet ashore for a shared meal.  Sunday morning we meet ashore again, plan the passage home, up anchor and away.  Depending on the conditions we may anchor somewhere different for lunch then return back to Opua mid-afternoon.  The emphasis is on fun, this is not a formal sailing lesson – just an experience to grow your skills.  Even commences Friday 30th April and concludes Sunday 2nd May.
We've been fortunate to have the local Burnsco store sponsor the event in the past and they have again offered to provide prizes for this year's event.  
Enjoy a weekend sailing in the Bay of Islands with a great bunch of other women.  We'd love to have you come to sail with us on our fourth annual Women on Water (WOW) weekend.  Contact us to find out more