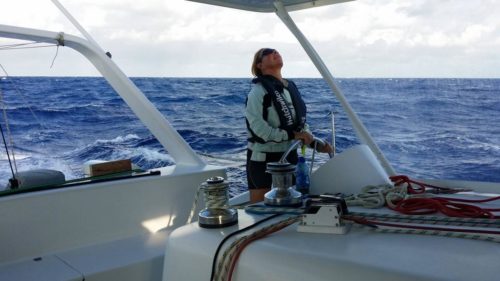 Our inaugural Bay of Islands WOW (Women on Water) Weekend was deemed a success by all who participated.
One of the sailing novices posted after the event, "It was a wonderful first sailing experience. I loved staying on Kokako and being part of the team! Good company, good food, beautiful environment, supportive learning experience…tick, tick, tick, tick. FANTASTIC weekend… I would like to learn more and have more sailing experience."
Nearly thirty women participated, including four mothers with their daughters and one grandmother, with daughters and granddaughter.  The participants prior sailing experience included some who had competed in international sailing events, offshore sailors, club racers, and local cruisers, to first time sailors.   The objective was to promote a passion for sailing and enhance confidence and competence in sailing and boat handling skills, regardless of starting base.  The feedback and comments, such as this from an experienced off-shore sailor, indicate accomplishment of this goal. "Great weather, great company, great food and drink and a variety of sailing conditions. There was such a mix of ages and abilities on the boats I think everyone learned something."
The weekend started at Opua Cruising Club 1700 on Friday and the evening event included finalising crews, meeting everyone, a couple of short video clips, review of the weather forecast and passage planning.
Saturday morning crews assembled on their boats and were briefed on vessel operation and safety equipment.   Getting away around 1030 the boats posted trip reports with Russell Radio.  With following winds of 15-20 knots and gusts around 25 knots, the boats all made very fast passages to the beautiful anchorage at Urupukapuka.  Enroute boats had POB (Person Overboard) drills and the team aboard Liaison had a realistic practice when one of the younger crew members decided to throw their practice person (an old lifejacket) for a second POB rescue without any warning! Great work on the pointing and resuscitation.
Once the fleet was safely anchored all the sailors meet for a delicious shared meal ashore.  There was plenty of food, lots of laughter, sailing stories and a few fun prizes awarded.   For various reasons each boat won a bottle of bubbly!
Sunday morning crews had time for swimming and walks ashore before a nice beat home.  With a short stop at Motuarohia (Roberton) Island for lunch all the boats and crews were safely back at Opua by Sunday afternoon.  Those that could, attended a final debrief at Opua Cruising Club Sunday evening.
This inaugural Bay of Islands WOW weekend included fun, learning and laughter afloat, sailing in the Beautiful Bay of Islands.  One of the mothers posted in Facebook, "So empowering for all of us… A highlight for me was the buzz my three young women got… you planted a seed in each of them. I'll make sure I water and nurture their new-found love of sailing. Who knows…next year they could take their own boat in the WOW weekend."
And as another of the sailing novices concluded, "Yes bring on the next one that's what I say – it pushed me out of my comfort zone in a good way and gave me the time to take stock of nature and what is important to me xxx".
See the Yachting New Zealand report here  https://www.yachtingnz.org.nz/news/201805/plenty-of-wow-at-inaugural-bay-of-islands-women-on-water-weekend
And plan to join us next year, register your interest in our event.
See information on this on YNZ news and devents https://www.yachtingnz.org.nz/news/201803/course-aims-to-get-more-women-on-the-water