Moturua Island (second island)
Moturua Island is one of the islands that make up the eastern Bay of Islands archipelago.  It is the most forested of the islands, providing habitat for native and rare bird species such as North Island brown kiwi, Toutouwai (North Island Robins), Tieke (North Island Saddleback), Pōpokotea (Whitehead), Miromiro (Tomtit) and Tūī.   It is approximately 136 hectares with wonderful sheltered anchorages, an easy walk, rich history, stunning views, and great variety of beaches.  It is inside the cruising grounds for all boats in the Great Escape Fleet.
The walking track right around Moturua Island is a 4.6km loop that takes about two and a half hours at a leisurely pace.  You can join the track from many of the anchorages and walk through open grassy areas and along cool shady stretches beneath the regenerating coastal forest trees.
History
There is evidence that some of the earliest Polynesian settlement was in Mangahāwea Bay. There have also been a  vast number of archaeological findings as a strong indicator that prehistoric Māori thrived on the island. In colonial history, famous explorers Captain Cook and Marion du Fresne each had involvement with the people of Moturua Island. Cook anchored just offshore in 1769. In the winter of 1772 du Fresne established one of his two Bay of Islands base camps on Moturua.  The island was occupied by the Navy in World War II, and there remains a mine observation post and concrete pads for the ablution blocks and barracks at Waiwhapuku (Army) Bay.  Today the island is mostly a scenic reserve and thanks to Project Island Song Moturua boasts a healthy bird population and a fascinating insects!
Recommended anchorages
Waiwhapuku (Army) Bay  Lovely beach, great shelter in SW conditions.  During World War Two mine cables were laid across the Bay of Islands and this bay was the mine control base with housing and other camp facilities. The houses were removed after the war but evidence remains, including deep shafts and a defence observation post that was built on the nearby pa site.
 Awaawaroa (Pipi) Bay  Lovely sheltered anchorage.  The beach is sandy and ideal for picnics, unfotunately during spring tides the beach disapears.  A great anchorage for the smaller boats as they can lift their keels and sneak right up to the front.
Wai-iti and Waipao (Frenchmans) Bays These bays with their plentiful water supply were the sites of early European visitation. Marion du Fresne's tumultuous visit to the Bay of Islands was based from here and his claim to New Zealand is said to be buried in a bottle in the stream bank in the bay.
Otupohu (Homestead) Bay A tiny cove perfect for Great Escape boats, anchor early and get the bay to yourself. Lovely swimming bay, once the site of a small Maori village and later farmed by a local family until 1968. The cream boat would call here for milk and other produce. Today, the bay has discretely placed composting toilets, which is quite useful for those on small boats.
Mangahāwea Bay – A very pretty anchorage with great snorkelling.  Good spot to see Oystercatchers or the New Zealand Dotteral searchinig for food on this open sandy beach.  Not always good for overnight as there is very often a sweling rolling into the bay with a small break onshore.
"Army Bay on Moturua has to be one of my favouriate anchorages in the Bay of Islands.  The beach is lovely. there is a fun snorkel or row around the little islet in the NE corner and it is very sheltered (and a popular place to meet friends) in SW winds.  Great place to start the walk around the island." – Julie K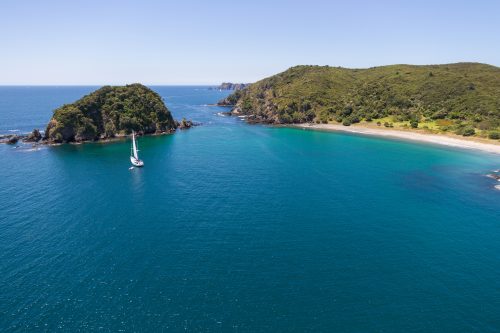 Mangahāwea Bay – great snorkelling, can be exposed overnight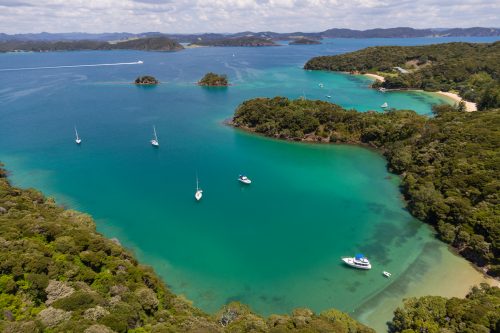 Awaawaro  (Pipi) Bay – #6 on the cockpit chart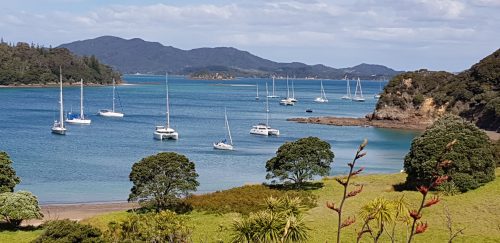 Kokako at anchor in Waiwhapuku (Army) Bay – #7 on the cockpit chart
HOW TO EXPERIENCE THE BEAUTY AND HISTORY OF MOTURUA ISLAND
If you are an experienced skipper you can bring your crew and bareboat charter with us
If you are new to sailing or skippering you can take one of our learn-to-sail then sail-yourself sailing adventures to gain the skills needed to safely drop anchor and enjoy an escape to this wonderful island.
Come sail with us, we love to share our passion for sailing in the beautiful Bay of Islands.
More information