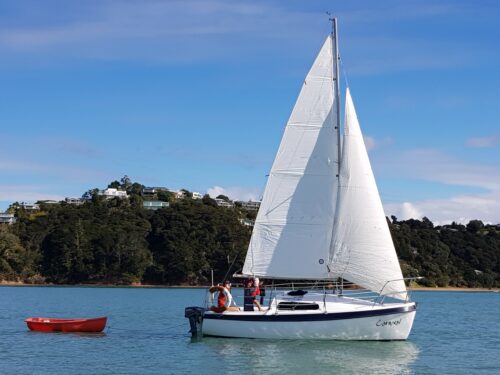 Budget Price Maximum Fun
The Davidson M20 is a big-volume small boat that has been providing affordable memorable sailing holidays in the Bay of Islands for many satisfied sailors over many years.
Perfect for the compact sheltered waters of the bay they are fun and responsive to sail, with a generous cockpit and sitting headroom down below.  Whilst they have been well used, they are well-loved and these boats have undergone significant ongoing refurbishment to ensure you have an enjoyable, hassle-free holiday afloat.
Your Davidson M20 will be your activity and accommodation all in one, allowing you to explore and enjoy the Bay of Islands whilst holidaying on a budget.
Being small has its benefits, you can get right up to the beach.  The lifting keel gives you plenty of cruising options, a very generous cockpit and balanced rig make it comfortable to sail.  Down below there is good sitting headroom with a fixed table, galley, separate head, and generous berths.  All the cruising gear and safety equipment you need for a great sailing holiday are aboard.
Very comfortable with four aboard for day sailing.
Ideal for two people for longer stays.
Think camping afloat!
Check out the Davidson 20 Sustainability Story  – REDUCE – REUSE – RECYCLE
Specifications
Max aboard: 4
Draft: 500mm keel up, 1.7m Keel down
Bed layout: 1 Double 2 singles
Engine: 8 HP Outboard
Water: 40 litres
Onboard facilities:
Cookware and tableware for four. Linen can be provided –
Head and stowage forward
All safety equipment provided
Double berth main cabin and two generous quarter berths
Separate head and storage in forward cabin
Dinghy with oars provided
Book now
Skipper requirements
For bareboat charter, the skipper must have a sound knowledge of sailing and boat handling. We provide a comprehensive vessel safety briefing and an overview of navigation in the Bay of Islands, with suggested highlights before you cast off.
If you are new to sailing or want the comfort of some time with an instructor before you take the helm. Just ask, we can help. Or check out our sailing school sailing adventure courses.